Drum Circle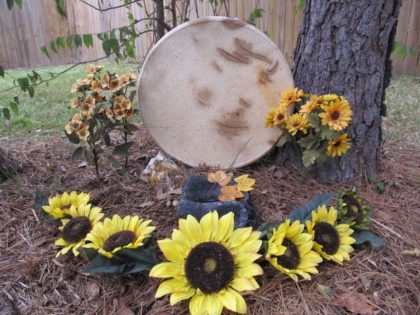 Phoenix of the Grove supports the community by offering the Wheel of the Year Drum Circle. At the drum circle, we come together in community to celebrate Mother Earth and the changing of Her seasons.
We were all born with our own drum – our heart. Our heartbeat starts while we are still in the womb. This internal rhythm syncs us to the natural world around us and to our planetary home, Mother Earth.
Some see Mother Earth as the dirt and rocks beneath our feet, some see Her as a sentient and intelligent ecosystem which we are all a part of, and some see her as a Spirit inhabiting this Earth we live on, the Earth Goddess Gaia, surrounding and connecting all beings in this ecosystem. However you see Mother Earth, without Her we would not be in existence. It is vitally important that we learn how to live within Her systems, as a part of Her systems, rather than trying to dominant and bend Her systems to our human will.
Through the drum circle, we celebrate Her sacred circle of life and bring our rhythm in harmony with the rhythms of nature. We allow our drums to speak for us, to release anxiety and toxic thoughts. Our drumbeats synchronize with the drumbeats of our fellow drummers to form a community, a circle which is never broken.
Right now, due to COVID, our drum circle is on pause. However, we will be bringing our drum community back together just as soon as it is safe to do so. When we do, all are welcome! No drumming experience necessary, just an open heart and mind.