Whether you are looking for a open and caring community where you and your family, no matter how you define them, are embraced or a place where you are free to explore diverse theological, philosophical, and spiritual ideas, or a faith community that believes values must be lived and social justice work is the heart of what it means to be religious, know that you are welcome!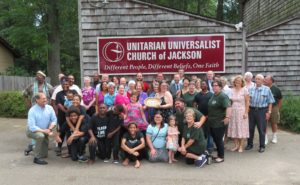 UUCJ IS A DIVERSE AND WELCOMING COMMUNITY…
We are a religious tradition that embraces many different beliefs…including yours! The majority of our 70+ members and friends were not born Unitarian Universalists. Ours is a chosen faith. We come from many faith traditions including Hinduism, Buddhism, Judaism, and variety of Christian denominations across the Catholic and Protestant traditions or from no religion at all. We gather together to support one another in our search for answers to life's biggest questions and to worship, or to lift up those values that have "worth" for us.
YOU ARE WELCOME EXACTLY AS YOU ARE!
UUCJ embraces people of all levels of ability, identities, and family configurations and situations. Our congregation is black, brown, and white; old, young, and somewhere in between; gay, lesbian, straight, and questioning; liberal, moderate, libertarian, and non-political; and academics, entrepreneurs, tradespeople, and artists. We hope you and your family find home here!
---
ANNOUNCEMENTS
UUA UPDATES
The Unitarian Universalist Association (UUA) and the Unitarian Universalist Service Committee (UUSC) have undertaken an unprecedented coordination in a call for collective action. They are calling everyone—congregations, individual UUs, friends, and colleagues—to commit to putting Unitarian Universalist values into action. Sign your name to the Declaration of Conscience to resist hate, fear and bigotry. You will get regular email updates, opportunities and stories from this joint initiative of the UUA and UUSC!
SOUTHERN REGION UPDATES
Check out the most recent UUA Southern Region Newletter with inspirational words, resources, events, and much more!
MISSISSIPPI CLUSTER
The Unitarian Universalist Congregation of Oxford will host the UU Mississippi Cluster, Saturday, March 4, 2017:
Unitarian Universalism in the South— Rising Today & Tomorrow!
We need each other now more than ever and the larger communities we serve desperately need us.  We have an opportunity to make a great difference.  Together the work is more fun, together the work is easier, together we can do the work that we cannot do alone.
This cluster meeting will include relationship building, vibrant worship, an exploration on the distinctive character and challenges of Unitarian Universalism in Mississippi, identifying the partnerships we might cultivate and recognizing the partners we already have. There will be several opportunities for networking focused on how to strengthen our congregations and to plan for future inter-collaboration.
The Oxford congregation is generously hosting this cluster meeting. The Southern Region Congregational Life staff will be our program facilitators — Connie Goodbread, Reverend Carlton Smith, and Reverend Kenn Hurto.
Registration is now open. To register and get the details of the schedule, click here:  https://uuinthesouthrising.eventbrite.com
Questions? Please contact
BLACK LIVES MATTER BANNER
The UUCJ held a special unveiling ceremony for the Black Lives Matter banner on Sunday, January 15, 2017 as part of our celebration of the life and legacy of Martin Luther King, Jr. and to kick off the 30 Days of Love campaign. The new banner was recently featured in the Clarion Ledger. Check out our new page explaining Why We Care for information and resources about how you can support the movement.
STANDING ON THE SIDE OF LOVE – 2017
Now that the 30 Days of Love for 2017 has ended, we are called to carry our new understanding and commitments forward to transform the world through justice and love throughout the year. Check out resources and online learning series: Organizing on the Side of Love to help you answer the pressing questions: How do we, as people of faith, respond to inequality and oppression? How can we make justice in our world? Where are opportunities for us to create more inclusive communities?
If you missed any of the resources for this year's campaign on Fortifying the Movement you can find them here: