Whether you are looking for a open and caring community where you and your family, no matter how you define them, are embraced or a place where you are free to explore diverse theological, philosophical, and spiritual ideas, or a faith community that believes values must be lived and social justice work is the heart of what it means to be religious, know that you are welcome!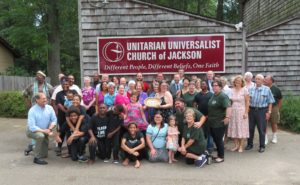 UUCJ IS A DIVERSE AND WELCOMING COMMUNITY…
We are a religious tradition that embraces many different beliefs…including yours! The majority of our 70+ members and friends were not born Unitarian Universalists. Ours is a chosen faith. We come from many faith traditions including Hinduism, Buddhism, Judaism, and variety of Christian denominations across the Catholic and Protestant traditions or from no religion at all. We gather together to support one another in our search for answers to life's biggest questions and to worship, or to lift up those values that have "worth" for us.
YOU ARE WELCOME EXACTLY AS YOU ARE!
UUCJ embraces people of all levels of ability, identities, and family configurations and situations. Our congregation is black, brown, and white; old, young, and somewhere in between; gay, lesbian, straight, and questioning; liberal, moderate, libertarian, and non-political; and academics, entrepreneurs, tradespeople, and artists. We hope you and your family find home here!
---
ANNOUNCEMENTS
UUA UPDATES
Listen to a new Holiday Message from UUA President Peter Morales in English or in Spanish. Also check out the most recent UU Bulletin with information on planning for the 30 Days of Love in 2017, resources to support implementation of Our Whole Lives comprehensive sexuality education, the Congregational Study Action Issue Guide: Corruption of Our Democracy, and much more!
CLF UPDATES
An upcoming Church of the Larger Fellowship Workshop on Planning for Personal Resistance & Resilience will be held Saturday, December 10th. Join CLF Senior Minister, Meg Riley, to take time to think about and to discuss with others how you plan to live in the coming months. How will you take care of your body and spirit? What kind of community do you need now? How will you resist tyranny and oppression? Sign up to participate and to start your personal plan of resistance and resilience.
BIANNUAL CONGREGATIONAL MEETING
We will be holding the Fall Biannual Congregational Meeting on Sunday, December 11th, 12:30 pm. Annual reports will be presented from the Board, Advisory Councils, Ministry Teams, and Taskforces. We will also vote on the 2017 budget and renewal of Minister Justin McCreary's contract. All voting members should attend to ensure quorum. Proxy voting is not permitted.
SMALL GROUP MINISTRY
There are several opportunities to participate in Covenant Groups or Chalice Circles this coming year. These small groups allow participants to reflect on and discuss significant life topics, get to know others and themselves, and deepen their connections with one another, the congregation, and the sacred. To participate in a local (face-to-face) Chalice Circle, contact Min. Justin McCreary. To participate in an online Covenant Group through the Church of the Larger Fellowship, you may register online by January 3, 2017. (NOTE: The local Chalice Circles are free for members and friends of UUCJ. The online Covenant Groups are free for members of the CLF or require a small administrative fee to nonmembers though some scholarships are available.)