Whether you are looking for a open and caring community where you and your family, no matter how you define them, are embraced or a place where you are free to explore diverse theological, philosophical, and spiritual ideas, or a faith community that believes values must be lived and social justice work is the heart of what it means to be religious, know that you are welcome!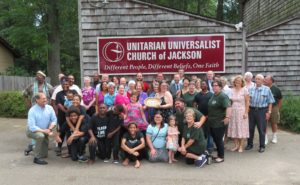 UUCJ IS A DIVERSE AND WELCOMING COMMUNITY…
We are a religious tradition that embraces many different beliefs…including yours! The majority of our 70+ members and friends were not born Unitarian Universalists. Ours is a chosen faith. We come from many faith traditions including Hinduism, Buddhism, Judaism, and variety of Christian denominations across the Catholic and Protestant traditions or from no religion at all. We gather together to support one another in our search for answers to life's biggest questions and to worship, or to lift up those values that have "worth" for us.
YOU ARE WELCOME EXACTLY AS YOU ARE!
UUCJ embraces people of all levels of ability, identities, and family configurations and situations. Our congregation is black, brown, and white; old, young, and somewhere in between; gay, lesbian, straight, and questioning; liberal, moderate, libertarian, and non-political; and academics, entrepreneurs, tradespeople, and artists. We hope you and your family find home here!
---
ANNOUNCEMENTS
UUA UPDATES
Check out the most recent UU Bulletin with information on planning for the 30 Days of Love in 2017, resources to support implementation of Our Whole Lives comprehensive sexuality education, the Congregational Study Action Issue Guide: Corruption of Our Democracy, and much more!
SOUTHERN REGION UPDATES
Check out the most recent UUA Southern Region Newletter with inspirational words, resources, events, and much more!
MISSISSIPPI CLUSTER
The Unitarian Universalist Congregation of Oxford will host the UU Mississippi Cluster, Saturday, March 4, 2017. Plan to participate in this opportunity for Mississippi UUs to envision our shared future, with support from Southern Region Staff members Connie Goodbread, Rev. Carlton Elliott Smith, and Rev. Kenn Hurto (Regional Lead). There will be a fellowship dinner Friday evening for those who arrive early. Additional details will be provided.
BLACK LIVES MATTER BANNER
The UUCJ held a special unveiling ceremony for the Black Lives Matter banner on Sunday, January 15, 2017 as part of our celebration of the life and legacy of Martin Luther King, Jr. The new banner was recently featured in the Clarion Ledger. Check out our new page explaining Why We Care for information and resources about how you can support the movement.
30 DAYS OF LOVE – 2017
Unitarian Universalists all over the country will be engaging in learning and action marking 30 days from the celebration of MLK to Valentine's Day. As we face 2017, we must explore what it means for Unitarian Universalism to be on the side of love and justice. Each week tools and resources will be shared to help you reflect, learn, and act around this year's theme: Fortifying the Movement: