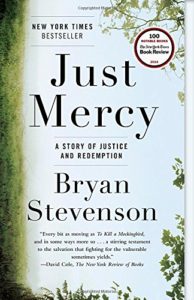 9:30 a.m. — Social Justice Book Circle:  Just Mercy: A Story of Justice and Redemption by Bryan Stevenson, led by Patricia Ice

We will discuss the issues and insights gained from reading this powerful true story about the potential for mercy to redeem us. Just Mercy is a clarion call to fix our broken system of justice-from one of the most brilliant and influential lawyers of our time.
10:30 a.m. — Coffee Fellowship
11:00 a.m. – Service: Flower Power, led by Ann Maclaine
Early May in Mississippi is lush with growth and blooms by members of the plant world.  What role do plants play in our interdependent web of existence?  Flowers in particular, from the lowly "weed" to the showy specimens, elicit responses of wonder and joy in many of us. Let's reflect together on "flower power"

11:00 a.m. – Religious Exploration:
Chalice Children (ages 3-6): Love Surrounds Us – The Chalice Children will learn about our principles and their root in love.

U.U. Kids (ages 7-12): UU Identity – The UU Kids are exploring the people, ideas, and events that have shaped Unitarian Universalism.

YUUth (ages 13-17): Cosmos: A Personal Voyage – The YUUth will watch and discuss Episode 2 of the original series covering the Miller-Urey experiment, which dispelled the myth that only God could create organic compounds

Childcare is available from 9:30 a.m.-12:30 p.m.
12:30 p.m. – Lunch Bunch
Join us at a local restaurant for food and fellowship!