Our Minister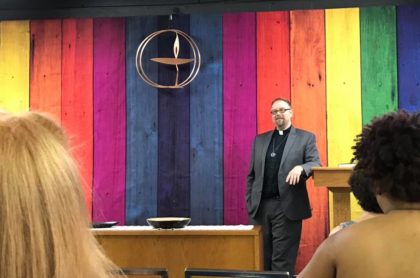 At 12 years of age, Justin began preaching for his home congregation in Wheeling, West Virginia. After years of periodically preaching as an adolescent and teenager, Justin began formal education in Religion and Ministry completing a Bachelors of Arts in Bible and Religion at Harding University in Searcy, Arkansas, and a Masters of Divinity focusing on Hebrew Bible at Harding School of Theology in Memphis, Tennessee. During Seminary, Justin served in student government, engaged in urban ministry with children with the Raleigh Community Church in Memphis, and was a frequent speaker during chaplain services where he honed his conversational, narrative preaching style.
Since leaving Seminary, Justin has served as a Chaplain Resident at Le Bonheur Children's Medical Center in Memphis, the Spiritual Care Coordinator for AseraCare Hospice in North Mississippi, and a Chaplain Resident at the G.V. Sonny Montgomery V. A. Hospital in Jackson, Mississippi. Justin began serving as a half-time minister with the Unitarian Universalist Church of Jackson since 2014 where he regularly leads services and is active with various community social justice organizations. Since the Supreme Court's Obergefell v. Hodges decision, he has been busily performing marriages for loving committed couples throughout Mississippi.
In March 2019, Justin was accepted into Preliminary Fellowship with the Unitarian Universalist Ministers Association. He was formally ordained in September 2019.
Justin married his wife Alicia in 2013. They currently live with their family in the Jackson Area. In his spare time Justin joins his family watching high school choir concerts and softball games. He also enjoys antiquing, collecting vinyl records, hiking back country, and cycling.
Contact Our Minister:
Rev. Justin McCreary has office hours every Wednesday 9:00 am-12:00 pm. For appointments, email minister@uujackson.org.