UU Kids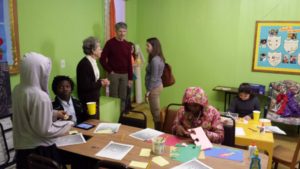 UU Kids (ages 9-14) Lead Teacher: Dary Shenefelt
The UU Kids class continues the exploration of religious community through religious stories, children's literature, drama, arts & crafts, games, and service projects. The children practice UU rituals such as lighting the chalice, reading the principles, sharing their joys and concerns, and taking up special collections.
As the middle- and high school years continually tug children toward both ends of the ethics continuum, this fall the U.U. Kids are learning about Amazing Grace: Exploring Right and Wrong. This curriculum will equip them to move through these years more safely and productively by helping them understand right and wrong and how to act on their new understanding. The children will come to recognize and depend on their Unitarian Universalist identity and resources as essential to their movement toward understanding, independence, and fulfillment of personal promise.
Past curricula include a study of UU history and beliefs, world cultures and religions, and a series evolution and ecology.